About Our Product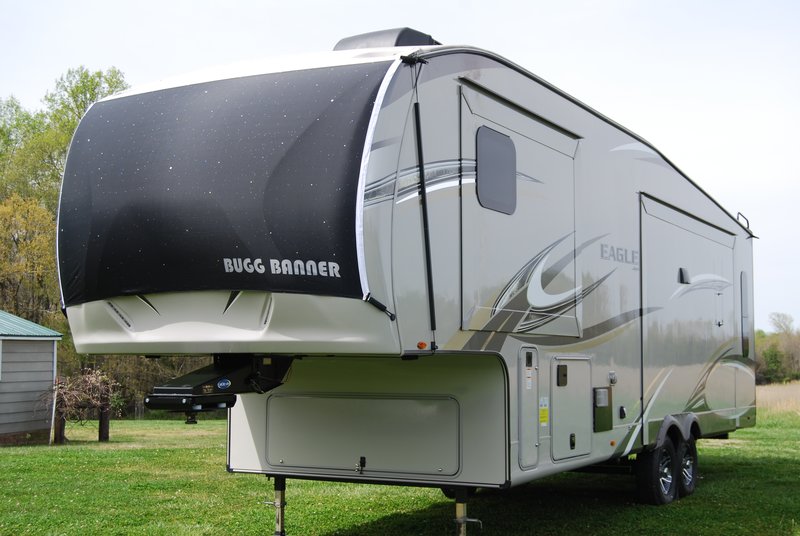 The Bugg Banner Kit includes all the hardware you will need to begin protecting your RV. It also includes a banner which has been specially designed to protect your investment. 
Although the kit banner is able to be used while parked, many RV owners may choose to purchase additional banners to display while in the campground. We offer many different banners (sold separately) to use with your Bugg Banner hardware. American banners, military banners and first responder banners with many more to come.
With the Bugg Banner system, changing from one banner to another is effortless. It's so quick and easy, it's almost fun. When it's time to head for home, Bugg Banner really shines. Simply lower and remove the "camping" banner and hoist the kit banner into position, lock into place, secure rings with shock cord and you're ready to ride. Know that when you return home, the front of your RV will be much cleaner than you've ever experienced before. Judge for yourself whether your kit banner should be washed for the next trip and admire how bug-free your RV is now.
Something to think about when considering whether to buy a Bugg Banner.  Bugg Banner does a great job protecting the nose cap but also protects the decals on the nose cap.  There are many products that help remove dried-on bugs from your R.V.  The decals however, are made of a much softer material and are much more vulnerable to these products.  Many times, a product designed to remove the bugs will actually weaken the decals.  Bugg Banner eliminates the need to use harsh chemicals so the decals are preserved just as much as the finish on the nose cap.  In other words, decals can't tolerate aggressive scrubbing.  As mentioned, with Bugg Banner there is
NO SCRUBBING!
Check out our "Photos and Videos Page" to see how easy it is to change out banners, and what BuggBanner does while traveling down the road at highway speeds.  (The travel video was filmed on I-26 East towards Charleston South Carolina.  Average speed was 65-75 MPH).
Veteran owned and operated.  Our products are made and assembled here in the U.S.A.